Direct mail marketing is one of the most proven forms of advertising and marketing. It has been around for more than 60 years, and it's still going strong today. According to some estimates, in 2022, about $43.3 billion was spent on direct mail in the United States alone. But despite its long history and continued popularity, there are still some myths about direct mail marketing that we, at Baesman Group, hear all the time. It's time to put those myths to rest!
Myth 1: Direct Mail Isn't Personal.
Direct mail is a highly customizable way to reach people. You can get personal by taking advantage of variable, dynamic data to create campaigns that target distinct segments of your customer base with specific messages that resonate with them based on their past actions. With variable print technology these hyper personalized direct mail pieces build lasting relationships with your customers by using your data. For example, suggest products they'll love based on past purchase history. You can even put variable color images and copy to communicate this. Or, let them know when it's time to replace a product based on their individual purchase frequency. Re-engage lapsed customers by communicating with them on a 1:1 level, such as "we haven't seen you in X months, and we miss you." Using your data with variable data printing technologies is proven to increase response rates and help you build personal relationships with your customers at scale.
Myth 2: Direct Mail Isn't Trackable.
It's true that direct mail is measured differently than online strategies, but ROI doesn't have to be a mystery! For instance, we monitor your pieces through the postal system so you can know where your direct mail is and when it enters the home. Using early reads on redemption rates, you can project results and make decisions about your next promotion faster than ever.
You can also use tactics like coupon codes, URL links, phone numbers and/or email addresses to measure your results. Using QR codes has become increasingly popular. It allows you to track your website visits. This is especially helpful if there's more information you'd like to share about your products and services that won't fit on your direct mail piece. Depending on your strategy, you can monitor response rates based on online activity or work with a partner like Baesman Group who can assist with digital tracking and non-digital match back services. It all depends on the strategy that helps you meet your business KPIs.
Myth 3: Direct Mail Is Dead.
We hear this myth a lot: "Direct mail is dead." It may seem like digital marketing has seemingly because the norm, but that's not the case. Direct mail marketing is far from obsolete, in fact, it's thriving in all industries and across all demographics.
Direct mail has higher engagement rates than social media or email, and it can be more cost effective when it comes to your ROI. According to recent studies, direct mailers have an average response rate of 9%, while digital ads have a much lower 1% response rate on average.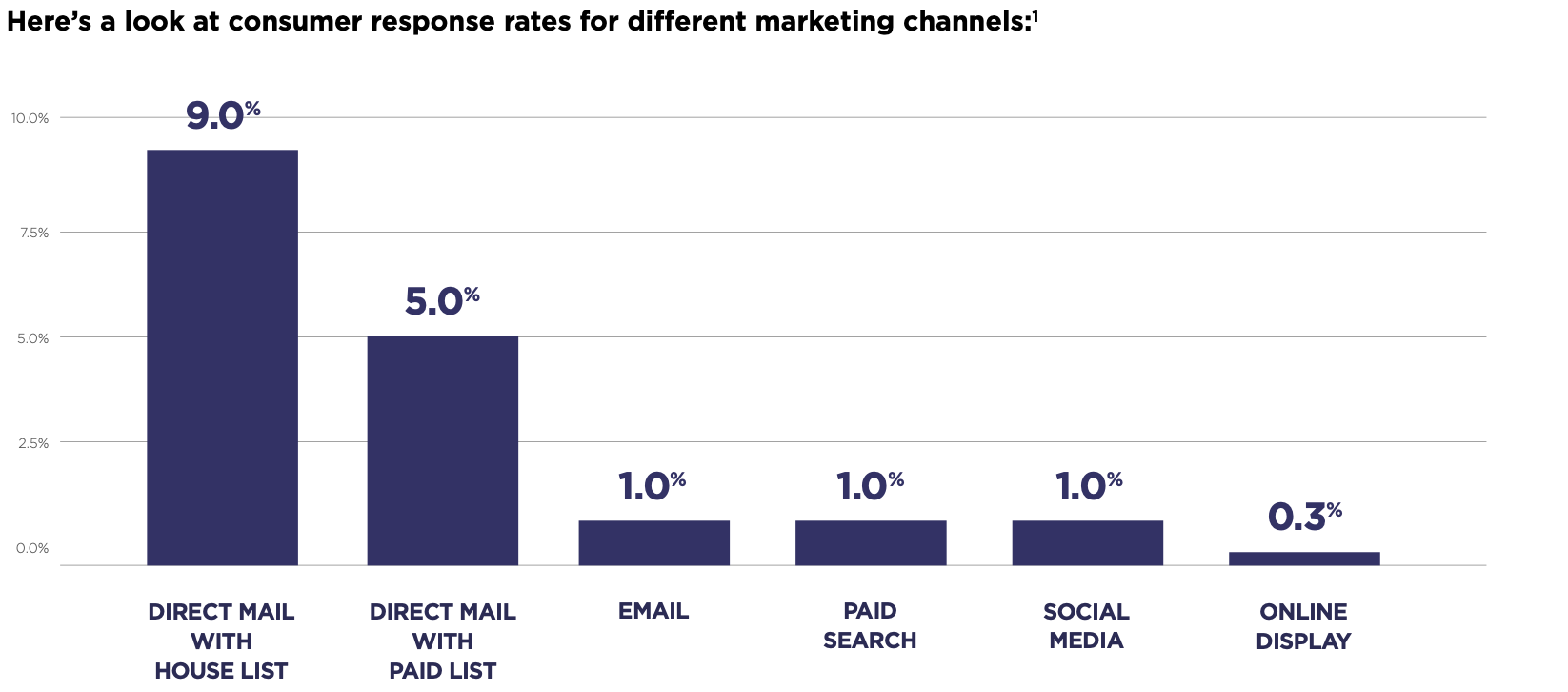 Myth 4: Direct Mail Is Too Expensive.
Some marketers tend to assume direct mail is too expensive. But the truth is that it doesn't have to be and it's still one of the best channels for reaching your target audience. The cost of direct mail depends on what kind of campaign you're running and how many people you'll reach. A great partner can work with you on how to maximize your budget by getting you the best postage rate, consolidate versions if applicable, and even work with you to find the best price for paper.
While the initial cost of direct mail can be higher than email marketing at times, it also tends to provides a higher return on investment. We've seen brands like Huntington Bank increase their ROI and significantly decrease overall costs by 30% through the use of direct mail. And because of its ability to be accurately measured, analyzed, and optimized, you'll know exactly which elements are working and what needs optimized so you can realize higher results in the future.
Myth 5: People Don't Pay Attention To Direct Mail.
With 70% of people believing direct mail is more personal than email, we can confidently say that personalization holds tremendous power in whether or not a mailer will get the reader's attention. Direct mail is still the most effective way of reaching your customers. That's a proven fact, because direct mail boasts an average open rate of 90% that's clear. People prefer to receive tangible promotional materials as opposed to emails which are often ignored even if they are from a recognizable brand.
Conclusion: Direct Mail Marketing Is Here To Stay.
Direct mail marketing isn't going anywhere any time soon. This tried and true marketing channel continues to grow and is relied upon by brands because of its cost-effective, measurable qualities and it provides an opportunity for businesses to connect with their customers on a personal level.
Now that we've debunked some of the most common myths about direct mail marketing and shown how it can be used as a powerful tool for acquiring, engaging, and upselling customers, are you ready to learn more about how we can help you create a highly effective direct mail campaign or optimize your current campaigns? Let's Talk!