Direct mail is back!
Direct mail has made a comeback as an impactful marketing medium—as long as it's personalized for each recipient.
In this article, we cover the three main considerations for your direct mail campaigns so you can connect with your consumers. In order to maximize your ROI, you should find the right solutions for strategy, printing, and mailing.
Strategizing for a High-Impact Campaign
A major aspect of any successful direct mail campaign is strategy. A direct mail marketing partner can help you strategize to create direct mail campaigns that move you a step—or two, three, or 10 steps—closer to achieving your goals.
These goals might include, for example:
Acquiring new customers
Retaining and re-engaging existing customers
Using customer segmentation to better understand your customer base
Find the Right Customers, Right Now
If you want to acquire new customers, look for a partner that can assist with targeting the right individuals for your campaigns based on factors like demographics and geographic location.
Another great way to find potential customers is through list acquisition. You can rely on your partner to do a one time list rental for you. For example, some direct mail partners can negotiate a price to rent a mailing list from your competitor. They can manage that list and the mail send, so you can reach prospects who are already in the market for what you have to offer.
Track Your Success
Another critical part of strategy is measuring the success of campaigns so you know what's working and, potentially, what's not. A partner who manages analytics on the back end can streamline your efforts and help you strategize more effectively for future campaigns.
Reap the Rewards!
Never underestimate what you can achieve with a direct mail campaign that has been strategically planned and executed. Baesman's work with Stanley Steemer resulted in a 200 percent increase in response rates in just one direct mail campaign and a 23 percent boost in online bookings!

Printing Your Design into Reality
Another important consideration is the printing process to turn your direct mail strategy into a reality. This shouldn't be an afterthought—it's a crucial part of the process.
The U.S. Postal Service delivered over 66 billion direct mail pieces in 2021, so needless to say, you have to make an effort to stand out among the other marketing materials that can clutter your recipients' mailboxes. The best direct mail partner can handle your printing to seamlessly turn your designs into engaging mailers.
Look for a printing partner who can offer these services:
1. Variable Data Printing for One-to-One Marketing
Personalization can be the key to getting consumers' attention. The majority of marketers say the main benefit of personalization is​​ increased conversion rates—that's a valuable benefit you don't want to miss out on.
But how can you personalize each and every mailer you send? The most efficient way is through variable data printing. This technology uses your data and the capabilities of a modern digital press to automatically personalize elements of each direct mail piece in a print job, without the need for manual changes.
2. High-Volume, High-Speed Digital Printing
If you want to reach a wide audience, you need a printer that can keep up with high-volume demands and handle large print jobs with speed and efficiency. That's possible with modern high-speed digital printers and a capable partner to facilitate the process.
3. Finishing Services
Printing ink onto paper often isn't the end of the story. You also need to put the finishing touches on your mailers to help them stand out. This may include, for example, embossing or card attaching.
Card attaching is especially useful when you want to include promotional offers in your mailers. A study of millennials found that coupons that come in the mail are especially popular, with around two-thirds of respondents saying they like getting coupons to local restaurants and retail businesses.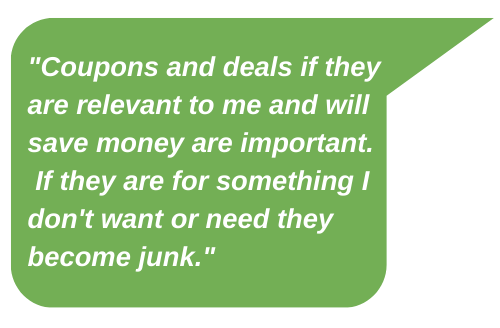 4. High-Quality Yet Affordable Printing
You want your mail to feel high-end with vivid colors, sharp lines, and quality paper. At the same time, you need to stay within your marketing budget. This is where your direct mail partner can help by finding ways to stay on budget while giving you the best value possible.
Mailing Logistics to Get Your Mailers into Recipients' Hands
Mailing is the final direct mail solution you need to reach your target audience. This practical aspect of the process is an important piece of the puzzle to help you meet your direct mail goals.
Some mailing services that can optimize your direct mail campaigns include:
Cost analysis: An experienced partner can find ways to lower your postage costs. You can put that savings back into adding real value into your campaign rather than being wasted on postage.
Logistics planning: Especially when it comes to time-sensitive offers or announcements, you need careful logistics planning to promote timely deliveries.
Tracking: A direct mail partner that can handle mailing logistics should also monitor your mailers throughout the postal system so you know the mail you send actually makes it into your customers' hands.
Partner with Baesman for Comprehensive Direct Mail Solutions
The right direct mail solutions can help you conduct successful direct mail campaigns and achieve your marketing goals.
Baesman offers a wide range of personalized direct mail solutions to empower your direct mail marketing. Want to learn more about our personalized approach to marketing and how you can leverage this approach to connect with customers? Download our eBook The Customer Experience Just Got More Personal.