In the fast-paced world of marketing, staying ahead of the curve is essential for brands looking to stand out and reach their target audience effectively throughout their customer journey. Now is the perfect time to evaluate your multichannel marketing and when and where your brand is reaching your customers. The 2024 USPS Postal Promotion presents a unique opportunity to not only optimize your existing direct mail strategy but also test out new approaches, all while reaping the benefits of a potential 30% credit on your postage costs.
The 2024 USPS Postal Promotion: What's It All About?

The United States Postal Service (USPS) understands the importance of direct mail in the modern marketing landscape. To incentivize brands to invest in high-quality direct mail campaigns, they have introduced the 2024 Postal Promotion. The main goal of this promotion is to encourage brands to integrate new technologies and print techniques into their mail pieces, making direct mail more engaging and interactive for recipients.

The USPS Postal Promotion offers discounts to mail owners who meet specific criteria, such as including elements like augmented reality, QR codes, and Near Field Communication (NFC) in their direct mail pieces. These interactive features help bridge the gap between the physical and digital worlds, creating a more immersive and engaging experience for the recipients. This promotion aims to boost the effectiveness of direct mail and encourage brands to explore innovative ways to connect with their audience.


What Mail is Eligible?
To be eligible, you must mail over one million pieces in the 2024 calendar year. Credits are earned on any 2024 volume that exceeds 2023 USPS fiscal year volume. That means if you mailed less than one million pieces in the 2023 fiscal year, you'll only be eligible to receive credits on any 2024 volume that is more than one million. If your direct mail volume exceeded one million in 2023, you'll need to exceed your 2023 volume.
For First-Class Mail Presort Letters, this includes:
For Marketing Mail, this includes:
When Can You Register?
Registration opens in November of 2023 and closes in June of 2024.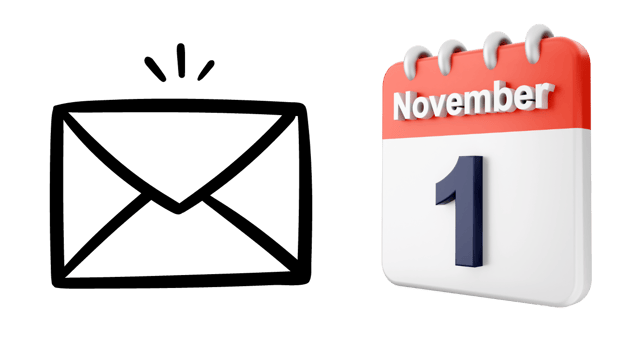 Who Is This Promotion Right For?

The new incentive program is well-suited for a variety of brands, both large and small, as well as industries from retail to financial services and healthcare looking to enhance their multichannel marketing strategies. Here are a few scenarios where this promotion can be particularly advantageous:

1. E-commerce Companies: If you operate an online store, direct mail can be a powerful tool to drive traffic to your website. The USPS promotion allows you to create interactive mail pieces that seamlessly lead recipients to your online store, increasing the likelihood of conversions.

2. Local Businesses: For brick-and-mortar businesses, direct mail is an excellent way to target local customers. The USPS promotion can make your mailers more interactive and appealing to potential customers in your community.

3. Startups and New Ventures: If you're just getting your business off the ground, the USPS promotion can be a cost-effective way to test the waters with direct mail. The potential 30% credit can help mitigate some of the initial costs and risks associated with direct mail marketing.

4. Brands Looking to Expand Reach: If you're considering expanding your customer base or reaching a new demographic, direct mail is a highly targeted approach. By incorporating interactive elements, you can capture the attention of a broader audience.

Why Now Is the Right Time!

The 2024 USPS Postal Promotion is an exciting opportunity for businesses to harness the potential of direct mail in a fresh and innovative way. Here are a few reasons why now is the ideal time to explore or enhance your direct mail strategy:

1. Cost Savings: The potential 30% credit on postage costs offers a significant financial incentive for brands to invest in direct mail campaigns. This can make direct mail more cost-effective compared to some digital marketing channels. For instance, if you mailed a million pieces last year, you likely spent approximately $300K in postage. With this promotion, you can double your volume but only spend around $200K. That leaves you with an additional $100K to work with in your 2024 annual marketing budget!

2. Enhancing Engagement: By incorporating interactive elements in your direct mail pieces, you can create a more engaging and memorable experience for recipients. This can lead to higher response rates and increased customer retention.

3. Testing New Strategies: If you've been considering new approaches or technologies in your marketing strategy, this promotion provides a low-risk environment to test these ideas and measure their impact. See point one above - these are unheard-of cost savings in an environment where most other costs are skyrocketing.

4. Staying Competitive: Utilizing the latest technologies and strategies can help your brand stay competitive and relevant in a crowded marketplace, as well as build loyalty efforts. What's more, overall mail volume declined in 2023. That means fewer brands are in the mailbox, so you have a greater chance of breaking through that proverbial clutter out there.
5. Multichannel Strategies Work: We write a lot about the fact that direct mail isn't dead. That's because it's not. In fact, it's a key part of multichannel marketing strategies that can be just as personal as your digital channels. The fact of the matter is they work best when used together. For instance, variable direct mail printing means your direct mail personalization is only as limited as your data. Send specific offers to individual customers and use QR codes and more so that your direct mail messaging and calls-to-action complement your digital strategy. When done right, marketers are seeing more success than ever before by personalizing the whole customer journey in every channel.


First-Class Mail Growth Marketing Ideas:

We encourage our clients to focus on high-quality, personalized, and engaging direct mail campaigns. Here are just a few ideas:

1. Personalization In Color: It's a best practice to incorporate personalized color messaging in bills and statements to boost the value of First-Class Mail. With variable data printing techniques, you can completely customize full-color images and text to better communicate with your customers on a 1:1 level.

2. Direct Mail Gets Personal: Speaking of creating personalized direct mail pieces, consider all the messages throughout the journey from customer acquisition to loyalty. The opportunities are endless. Download our eBook linked below for inspiration.


3. Augmented Reality Creates Customer Experiences: By incorporating augmented reality elements in First-Class Mail, brands can engage recipients on a whole new level and create a truly personalized experience.

These specific incentives further emphasize the USPS's commitment to enhancing the quality and effectiveness of First-Class Mail, making it an attractive choice for businesses seeking to maximize their direct mail efforts.


How to Get Started:
| | |
| --- | --- |
| . | Confirm you'll mail at least 1,000,000 pieces in the 2024 calendar year |
| . | Register between November 2023 and June 2024 |
| . | Review your 2023 mail volume and prepare to track 2024 mail volume |
| . | Speak with our mailing and postage experts at Baesman Group. |
Conclusion

The 2024 USPS Postal Promotion, including the specific incentives for First-Class Mail, is a great opportunity for brands to revamp and increase their direct mail strategies or venture into this effective marketing channel for the first time. By incorporating interactive elements, you can create a more engaging and memorable experience for your target audience while benefiting from potential postage cost savings.
This promotion is not just about lowering costs; it's about driving better results and staying ahead in the ever-evolving world of marketing. Don't miss out on this chance to enhance your direct mail strategy and take your marketing efforts to the next level.